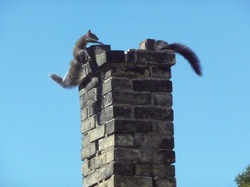 Do you have squirrels, bats, bids, or racoons in your chimney ?
Burning them out may be the first thing that pops into mind but unfortunately thats the most dangerous thing you could do. Because pests usually build nests out of old leaves and branches your little fire could turn into a house fire. But don't worry we provide humane animal removal so call us for a free estimate and don't forget to check for a rain cap the next time you are looking up at the roof, because not only dose it keep the water out and the brick from deteriorating, it keeps these pesky little buggers from being able to get in aswell.
---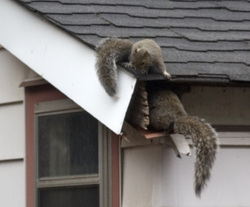 Problems with animals getting into the attic?
It's not easy evicting unwanted tenants when they just don't want to leave.
In order to get these guys out we set up a one way trap door so they can get out but not back in, or set a trap and take them away depending on the situation. Whatever may be getting in it is important to address the situation as soon as possible. This is important because once animals have gotten in they leave behind feceas, urine and a nest this attracts a flurry of other pests that deficate on your insulation causing it to be replaced, chew through your electric cables creating a fire hazard and create all kinds of havoc let alone foul odours and leave behind he alt risking diseases causing everyone in the home to be sick.
---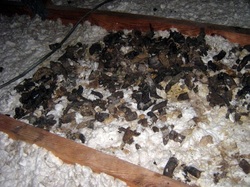 Once you have had animals inside your attic you are going to be looking at quite the clean up,
feceas sitiing on the insulation will cause quite the smell up there and on a sweltering hot summer day when its hotter then a sauna it will start to grow mold and cause you to replace all the insulation disinfect and insert a animal repellant. Did you know if you have animals in the attic chewing on your electrical causing a fire your insurance company will not cover you ? Prevent major damage and contact us for a free quote.
---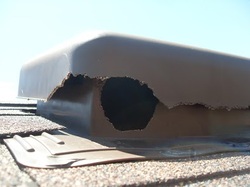 Animals find their way in to just about anything, during mating season they build nests for their young to grow up in a safe environment and your attic seems to be that place every year. Well not only can we get them out but we can prevent them from being able to get back in.
Contact us for a free evaluation on animal prevention for your home.
---